Single Tooth Implants – Kerrville, TX
Replace Your Tooth from Top to Bottom
You might find it okay to skip tooth replacement for a single tooth, especially if it's not a tooth visible in your smile. However, many people don't realize the long-term impact that missing just a single tooth can have on your oral and overall health. Over time, your risk for future tooth loss only goes up, making it more likely that you're no longer only thinking about single tooth replacement. To avoid this scenario, give Dr. Butler a call and he'll help you determine the best tooth replacement option for you.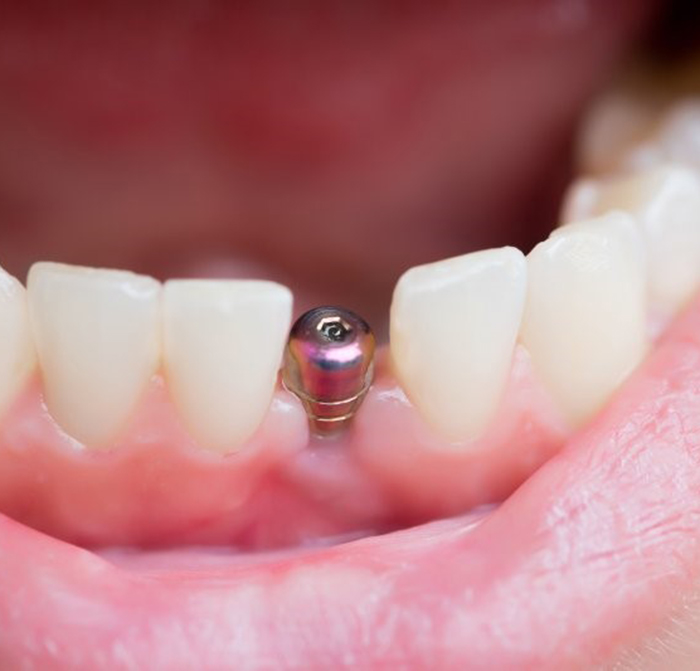 Options for Single Tooth Replacement
Generally, there are two main solutions for replacing individual missing teeth. This includes fixed bridges and single tooth dental implants, both of which have their own unique differences worth considering.
Fixed Bridge
Dental bridges are technically multiple crowns that have been fused together to form one larger restoration. Consisting of around three to four crowns, dental bridges contain two crowns on either end, which are designed to attach to modified teeth already present in the jaw. These crowns are hollowed out, allowing for a tight fit and stable foundation after placement. The crowns in the middle (also known as pontics) are meant to fill the gap in your smile, preventing neighboring teeth from shifting out of place. While they are effective at solving many concerns related to tooth loss, they don't feel quite as natural as dental implants.
Single Tooth Dental Implant
Dental implants are the only form of treatment that replaces both the crown portion (which is visible in your smile) and the root (which extends below the gum line into the jaw bone.) For this treatment, Dr. Butler performs oral surgery to replace your tooth. The replacement root is made from titanium, which integrates with your bone and soft tissue over a long period of time. Once the implant is placed, you'll need to wait a few months for osseointegration to complete (which refers to bone material growing around your implant post.) After enough time, the implant can be covered with a dedicated crown.
Notable Benefits of Choosing Dental Implants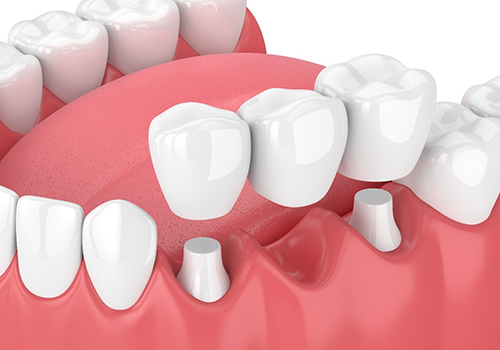 It is true that both fixed bridges and dental implants can make your smile look complete as well as prevent neighboring teeth from shifting out of place. However, the way in which they accomplish these tasks is completely different. For example, dental implants provide the following benefits:
Tooth Preservation – Dental implants do not require removal of existing tooth enamel to place like fixed bridges do.
Bone Stimulation – Since the root is being replaced, you can expect your jaw bone to receive consistent stimulation. This makes your biting force stronger and prevents bone tissue from breaking down over time.
Natural Feel – Dental implants truly feel like the closest thing to natural teeth because of their comprehensive integration process.
Longevity – Lasting on average for about 30 years when properly maintained, there is no other tooth replacement that can stand the test of time like dental implants.