Advanced Dental Services & Technology – Kerrville, TX
A High-Tech Dental Office for Dental Care
Dentistry is constantly evolving, and dentists can decide to stay updated on these advancements or be lost in the past. Dr. Butler wants all of his patients to know that he takes continuing education very seriously, and this includes dental services and technologies in Kerrville, TX like digital X-rays, sleep apnea treatments, intraoral cameras, and more! Check out how he and his team make your next dental appointment feel truly modern, comprehensive and more comfortable with advanced dental services and technology!
TMJ/TMD Treatment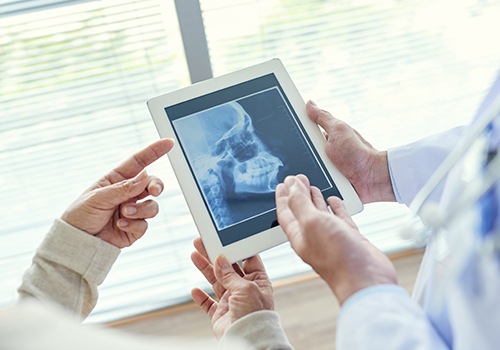 Are you dealing with chronic jaw pain and you aren't sure where it's coming from? Does waking up always seem to be accompanied by headaches or migraines? If so, it could be a result of an untreated jaw disorder related to the temporomandibular joint (also known as TMD.) When you visit our dental office for care, we can provide a detailed diagnosis to confirm exactly what is causing the pain, then recommend treatment based on what we believe will best address it. Treatments for potential TMD could be adjustments to your enamel or current restorations and splints to reduce pressure applied to the jaw joints.
Sleep Apnea Treatment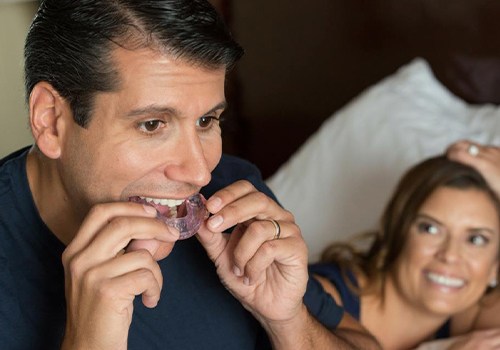 If you tend to snore loudly, it could be a sign that you have untreated sleep apnea. If you gasp for air while sleeping, suffer from excessive daytime sleepiness and insomnia, or struggle to concentrate throughout the day, Dr. Butler can provide you sleep apnea treatment right here in his dental office. Common treatments for obstructive sleep apnea, the most common form of the condition, include custom-made oral appliances to shift the position of the jaw, open the throat, and allow air to travel more effectively.
Intraoral Camera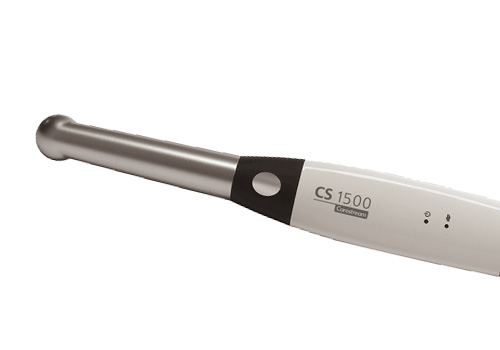 Our Carestream intraoral camera is a small, sterilized probe-shaped camera which can be moved around the inside of your mouth, providing a computerized image of your teeth and gums enlarged and in living color on the computer screen. We can freeze and store the picture of the inside of your mouth for examination, then take an instant photograph for you and your records. This easy technique allows us and you to see worn-out, defective fillings; fractured or decaying teeth; bleeding gums; and plaque for yourself.
Digital X-Rays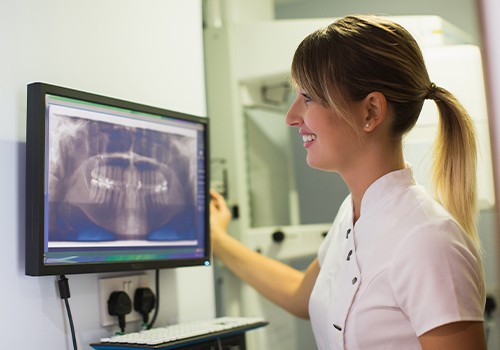 Dental radiographs can provide essential information about your oral health and are an important part of your dental record. Our dental office uses a Digital Panoramic X-Ray System as well as Dexis intraoral cameras to help capture, store, and transmit digital dental radiographs – leading to greater accuracy in just one take, the ability to enhance images on a computer screen and not even the smallest signs of decay, and the tiniest possible amount of radiation exposure.
CT/Cone Beam Scanner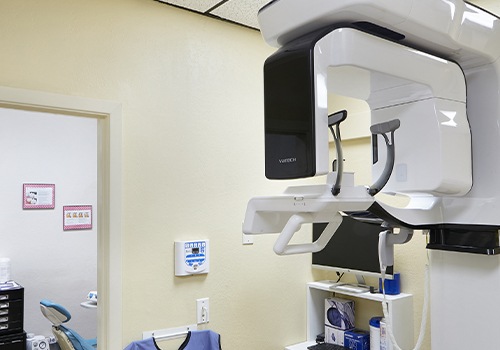 Digital X-rays go a long way when it comes to dental diagnostics and examination, but sometimes we need more detail to perform specific treatments. That's where the CT/Cone Beam scanner from VaTech comes in. This device captures a full 3D image of your current mouth and jaw, highlighting everything from your bone tissue to your nerves to your blood vessels. When we need to confirm where jaw pain is coming from, plan your dental implant placement, or extract teeth that are trapped underneath your gum tissue, the scanner becomes an asset to your next treatment.
Digital Impression System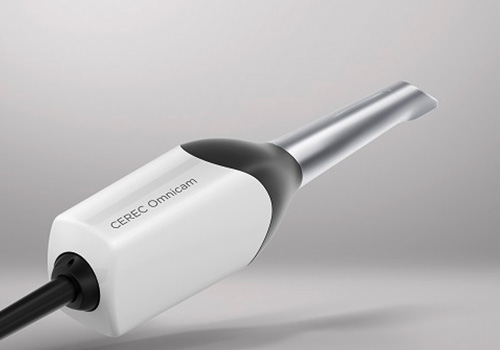 Traditionally, restorations and oral appliances can only be made by asking patients to bite into a gray, putty-like impression material. This is often an unpleasant experience, but it doesn't have to be. The CEREC Omnicam lets us capture a detailed image of your mouth and removes the putty impression material entirely. Not only that, but we can capture an even more detailed impression of your mouth that is more reliable and easier to utilize when creating new restorations!