Meet Our Dental Team – Kerrville, TX
Fantastic People Dedicated
to Quality Dentistry
Your dental visit is being taken care of not just by Dr. Butler, but by the hardworking team of hygienists, assistants, and support staff that keep the dental office running smoothly. Their dedication and passion for dentistry is second to none and they are always happy to take your dental questions. Education is just as important to them as providing exceptional care, so don't be afraid to ask for guidance, whether it's for an upcoming treatment or a specific oral care product you're thinking of buying.
Casey
Practice Administrator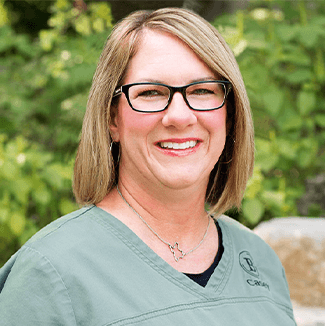 As Practice Administrator, Casey runs the front office with a smooth and practiced ease. She will gladly assist you in making your dental appointment, answering any billing questions, and preparing your insurance claims.
Previously working in the banking industry, Casey decided to switch professions. "I love being a part of Dr. Butler's team and seeing all of the patients come in and leave happy!"
She and her husband, Wally, have lived in Bandera, Texas since 2000. Together they have two sons. When Casey is not at work, she is spending time with her family, either hanging out in their backyard, hunting or fishing at the coast.
Lisa
Registered Dental Assistant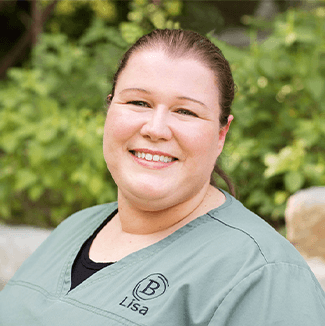 Lisa assists Dr. Butler in the day-to-day treatment of patients. She loves being part of a team that helps people get the smiles they've always wanted.
Lisa is a local girl, born and raised in Hunt, Texas. She attended Austin Community College where she received a Registered Dental Assistant Certificate. She has been a Dental Assistant since 2008 and has been a part of our team since 2012.
In her free time, Lisa and her husband, Bryan, enjoy hiking, camping, and photography.
Esly
Registered Dental Assistant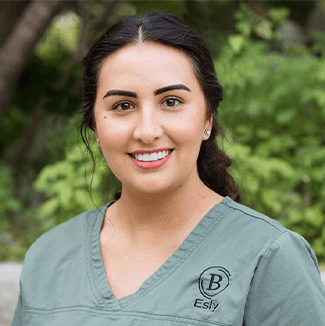 Esly and her family moved from Corpus Christi, TX to the beautiful Hill Country in 2005. After a personal experience in high school involving oral surgery and years of braces, she knew dentistry was her passion. She wanted to work with a team who could provide the best dental care and share the same passion with their patients.
Esly attended the University of Texas in San Antonio and graduated in May of 2020 with a Bachelor of Arts Degree in Medical Humanities and a minor in Biology. She is also certified as a Registered Dental Assistant from UT Health and Science Center and is currently pursuing acceptance into Dental School to obtain a Doctor of Dental Surgery Degree.
In her free time she enjoys playing her viola, indoor volleyball, and spending time with fiancé Patrick, and family.
Michelle
Registered Dental Hygienist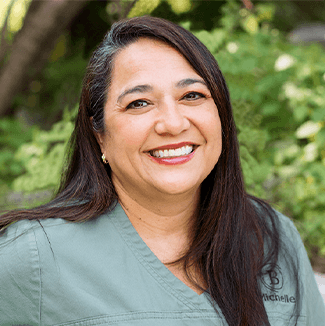 Michelle has been in the dental field for over 15 years as a dental assistant and furthered her career as a dental hygienist. She has a passion for dentistry and providing optimal care for her patients.
Michelle is married and has four children and one grandson. In her free time, Michelle enjoys cooking, traveling and spending time with family and friends.
Sheli
Registered Dental Hygienist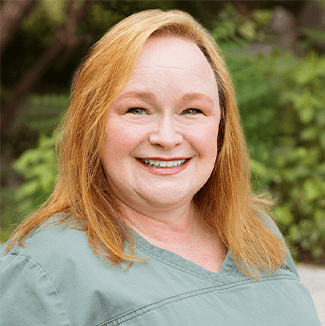 Sheli considers herself more than just a hygienist, but an oral health educator. "Teaching people to care for their head and neck can affect the health of the rest of their body," she says. "I think people are reluctant to come to the dentist, and it's my job to show them how preventive care can make every visit a relief, not something to be feared."
A Tarkington Prairie native, Sheli has lived in Bandera since 1994. She originally attended college as a psychology major for 2 years, making the shift to dental hygiene when she realized it was a better fit. Sheli graduated from the University of Texas Health Science Center with her dental hygiene degree. "All of my time was well spent," she says. "The years studying psychology make me better at patient care."
Sheli says the best part of her job is feeling like part of the community. When she's not caring for patients, Sheli is spending time volunteering at church, school, and with various other organizations. She also owns and operates a specialty cafe in Bandera called The Hen's Nest. She has been married since 1993, has 4 sons, 2 grandsons, and many pets.
Interns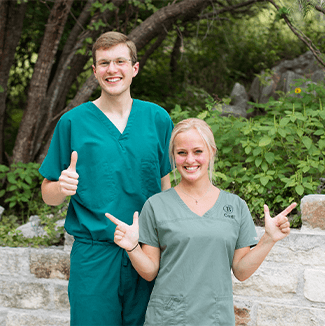 Dr. Butler enjoys sharing his love of dentistry with young people who are interested in the field. He regularly has high school and college interns helping in the office - learning dental techniques, patient care, and business skills. His track record is pretty great - his first intern, Paige Priour Blalock, is currently a dentist in Austin, his second intern, Erik Hager, graduated from Texas A&M University in 2020 and is now attending Texas A&M Dental School in Dallas, and his 3rd intern, Codi Becker, graduated from Tivy High School and is a Pre-Dental Major at Texas Tech University.