Dental Implants – Kerrville, TX
A Dentist with Decades of Experience
Do you have a missing tooth or many missing teeth in your upper or lower arch? A dental implant provides the most permanent, strong, and natural looking restoration. Dr. Butler has experience in placting dental implants in Kerrville, TX. He can give you back your smile with this procedure performed in our Kerrville cosmetic dental office. It's also an outpatient procedure, so you don't have to worry about taking a lot of time off work.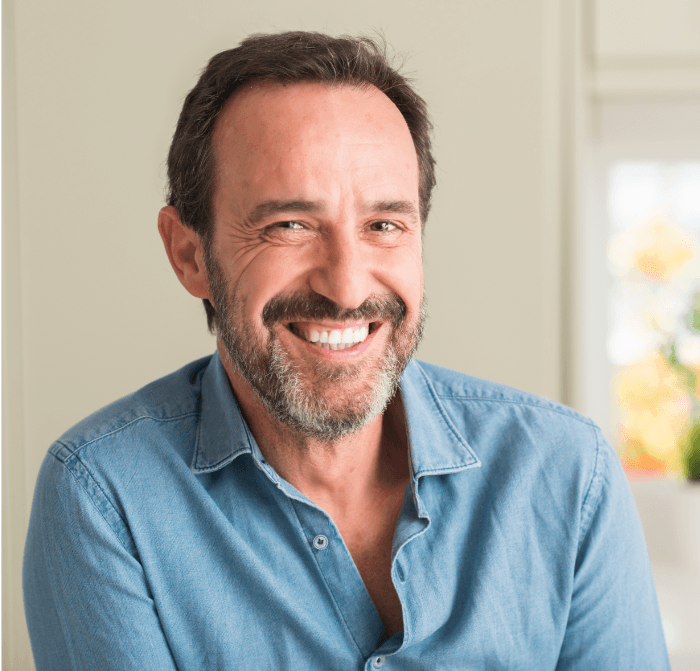 Why Choose Carroll R. Butler, DDS Family Dentistry for Dental Implants?
Dentist with 26 Years
of Experience
in Implants
Performs Placement
and Restoration
In-House
Advanced Technology to Enhance Treatment and Improve Outcome
What Is a
Dental Implant?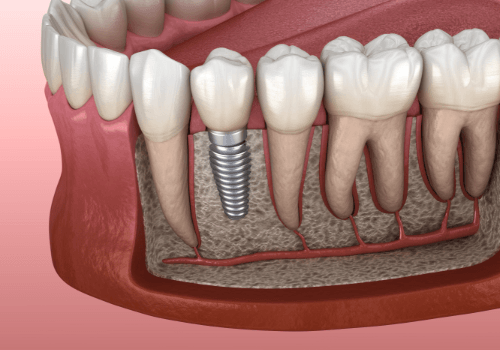 When we talk about dental implants, we're mainly talking about the titanium post that replaces the root portion of your tooth. While this piece is technically the "implant" portion, dental implants also include a restoration that sits on top and an extension that connects the two components together. Once placed, dental implants have the ability to mimic tooth roots almost exactly, making it possible to chew and smile with confidence for several decades. This is the only tooth replacement option that replaces teeth in this way.
Benefits of
Dental Implants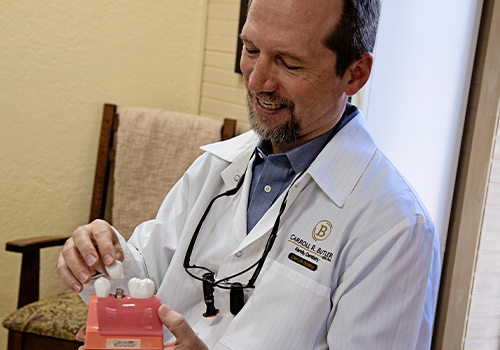 When you lose a tooth due to damage or decay, a dental implant can restore both the look and the sturdiness of your smile. An implant placed by your Kerrville implant dentist can last you the rest of your life. It will look and feel like your original tooth for a natural, complete smile.
Dental implants offer comfort and stability. It is also the best aesthetic option for smile restoration because of its realistic look. Dental implants in Kerrville cost a little more than other restorations but can last the rest of your life instead of needing a replacement in 5-15 years.
The success of your implant depends on correct placement, strong underlying bone structure, gum health, and proper oral hygiene. Dental implants are the most aesthetically pleasing restoration for lost teeth and can completely and permanently restore your smile.
Are Dental Implants
Right For Me?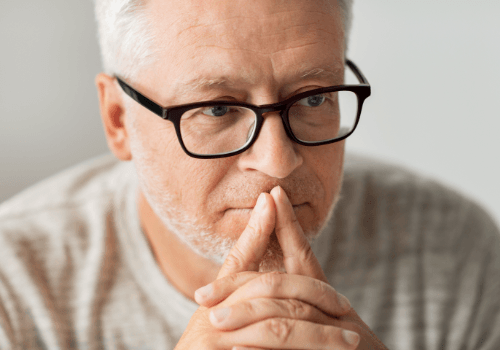 If you are self-conscious about missing teeth and don't want to wear partial or full dentures, a dental implant in Kerrville could be right for you.
Missing One Tooth
Missing single teeth? One titanium implant can be placed inside of the jaw and given time to heal and integrate with your existing bone tissue. Once the implant has fully healed, we'll attach the extension portion, wait a few more weeks for the gum tissue to heal, then cover it with a tooth-colored restoration.
Learn More About Single Tooth Implants
Missing Multiple Teeth
To replace multiple missing teeth, we can provide two dental implants to hold one larger dental bridge. In most cases, these dental implants can hold a three or even four-crown bridge. Since the implants are incredibly strong, there's no need to remove existing tooth enamel, which is required for placing bridges.
Missing All of Your Teeth
Dr. Butler is happy to say that he can replace upper and lower arches of teeth with dental implants. This may include four to six dental implants to hold an entire arch, but this can vary depending on your needs. You should not need a dedicated implant for each tooth you intend to replace.
All-on-4/Teeth-in-a-Day
If you'd like to walk out of the dental office with a brand-new smile the same day as your implant surgery, you're in luck! All-on-4 (or Teeth in a Day) is a unique procedure that works to maximize as much of your jaw's bone tissue as possible. This makes the implants viable for immediate loading, which means a larger dental restoration can be affixed the same day.
The Dental Implant Process
Dental implants have a three-step process that takes place over a period of several months.
Implantation
Dr. Butler will surgically place the dental implant into the bone of your jaw. The gum covers the implant, which will be fuse with the bone (osseointegration) over three to six months.
Immediately after the surgery, you may experience some tenderness and swelling. Dr. Butler will prescribe pain medication for you and recommend a diet of alternating soft foods, cold foods, and warm soup. This should minimize discomfort during the healing process.
Extension
After the implant fuses with the jawbone, Dr. Butler will uncover the top and place a post into the center of the implant to provide a foundation for the restoration. (In some cases, he can place the implant and post in the same visit.) The gum tissue then heals around the post.
Restoration
Dr. Butler will use our CEREC unit to create a customized crown that looks, feels, and functions like your real tooth. He will complete the dental implant process by placing the crown on the post. Dental implants can also support restorations that replace several teeth in a row or for full dentures.
Start to Finish Convenience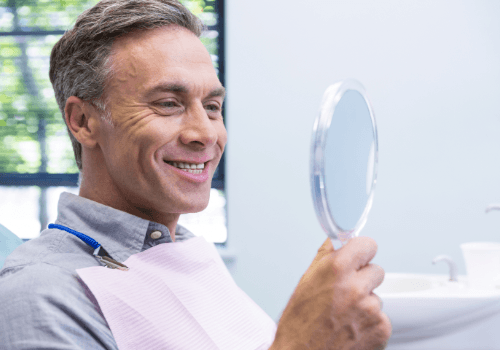 In many cases, dentists ask patients to go to other dental offices to have the surgical portion of their implant procedure completed. This can make the process less convenient, especially for the patient. Since Dr. Butler is an expert in implant dentistry and has been placing and restoring implants for nearly 30 years, he can complete every step of the process under one roof! Not only is it more convenient, but it's sure to give patients more confidence in the personalization of their care.
Understanding
the Cost of
Dental Implants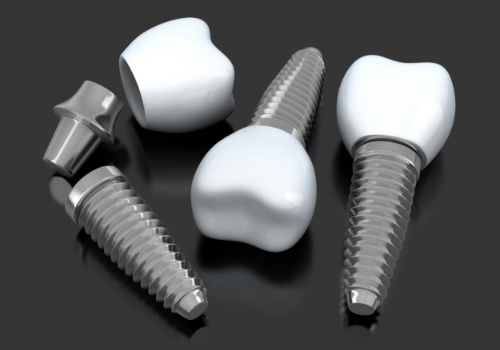 The dental implant procedure has many stages and every patient is going to have their own needs, which is why it can be very difficult to provide a specific price tag for treatment at first. Until we know exactly which teeth need to be replaced, the number of teeth being replaced, and whether or not preparatory treatments are needed beforehand, we can't provide an exact cost. After we complete the consultation and discuss what the best options are moving forward, then we can confidently provide a price tag for your treatment.
With that said, dental implants are more expensive upfront compared to other options, but the benefits largely justify the cost. This is because in the long-term, you're far less likely to need to replace dental implants compared to bridges or dentures. Think of dental implants as an investment, especially since they are meant to last 30 years or more once placed and provide benefits that are not possible with other methods.