Dentures – Kerrville, TX
Take Back Your Smile from Tooth Loss
Dentures and partials can replace some or all of your teeth, giving you back the freedom to smile, talk, eat or drink without discomfort, self-consciousness, or difficulty. We strive for the most comfortable, functional, and aesthetically pleasing results possible. Whether you need full dentures in Kerrville, TX to replace an arch of teeth or a personalized partial denture for multiple teeth throughout the mouth, Dr. Butler will make sure you're satisfied with your tooth replacement.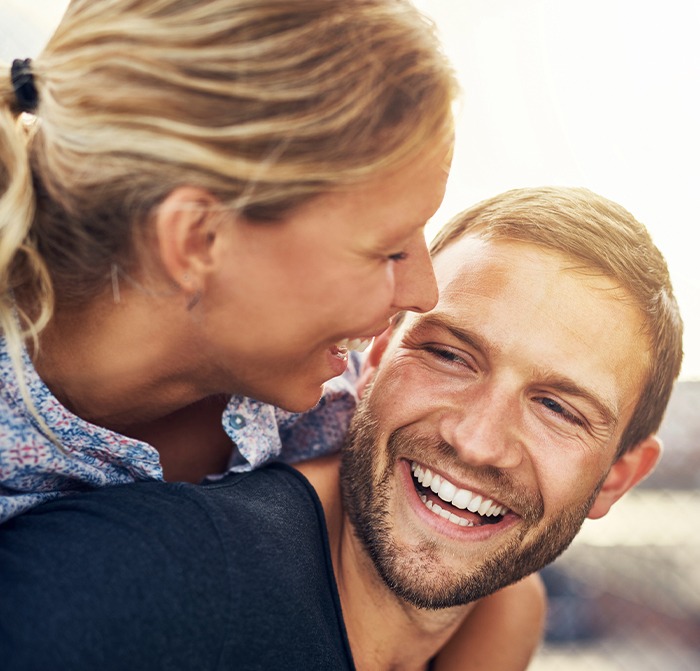 Why Choose Carroll R. Butler, DDS Family Dentistry for Dentures and Partial Dentures?
Full, Partial
and All-on-4
Dentures Available
Highly Customized
to Look and
Feel Natural
CT Scanner
and Digital Impression
Technology
How Do I Know if I Need Dentures?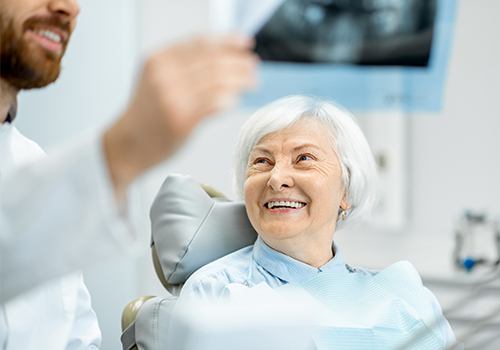 If you've lost all or some of your natural teeth, whether from periodontal disease, tooth decay or injury, complete dentures or partials can replace your missing teeth and refurbish your smile. You may find them to be an appealing solution if you have lost multiple teeth making it difficult to speak, chew, or smile. Dentures can provide:
A proper bite and chewing surfaces
The necessary structure for clear speech
Shape and form to the cheeks so they don't appear sunken in
Renewed self-confidence and a restored social life
Types of Dentures and Partial Dentures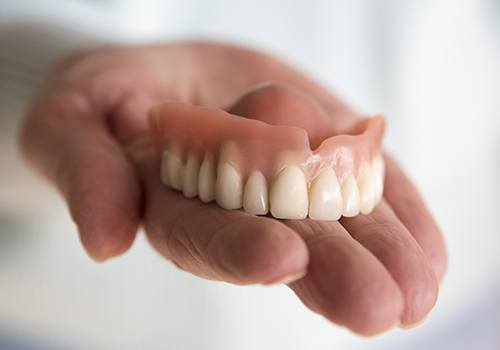 There are many ways to design a full or partial denture. For example, conventional full dentures are made and placed in the patients mouth once all remaining teeth have been extracted and gum tissue has healed. This process can take several months.
An immediate complete denture can be created based on molds of your mouth taken at a preliminary visit. When you arrive to have any remaining teeth extracted, the prepared dentures can be immediately fitted, and the gums allowed to heal beneath them. This option prevents you from being without teeth during the healing process.
Completes and partials can be removable or fixed. Dental implants are being used more and more often to attach to dentures for a better fit and extra stability. Partials only replace a few missing teeth; these can also be attached to dental implants or attached to adjacent teeth with crowns as bridgework.
How Long Will My Dentures Last?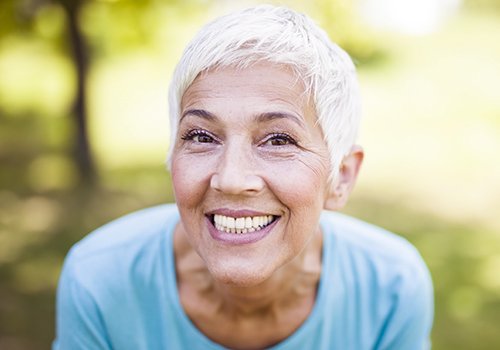 Your new dentures are handcrafted to look as natural as possible. The individual colors in the gums will last if you properly care for them, so follow Dr. Butler's instructions. You still have to take proper care of your oral health, even if you wear a complete denture. This includes brushing your gums, tongue, and palate with a soft-bristled toothbrush when you wake up in the morning. This works to stimulate circulation in your tissues and help remove plaque before you insert your dentures.
With proper care, dentures can last anywhere from 5 to 15 years or longer. However, if there is ongoing bone loss, they will have to be periodically adjusted and relined to maintain a comfortable fit. Call Dr. Butler if your dentures are uncomfortable, painful, or cause sore spots in your mouth.
Considering dentures? Contact us and schedule a consultation today!