October 11, 2022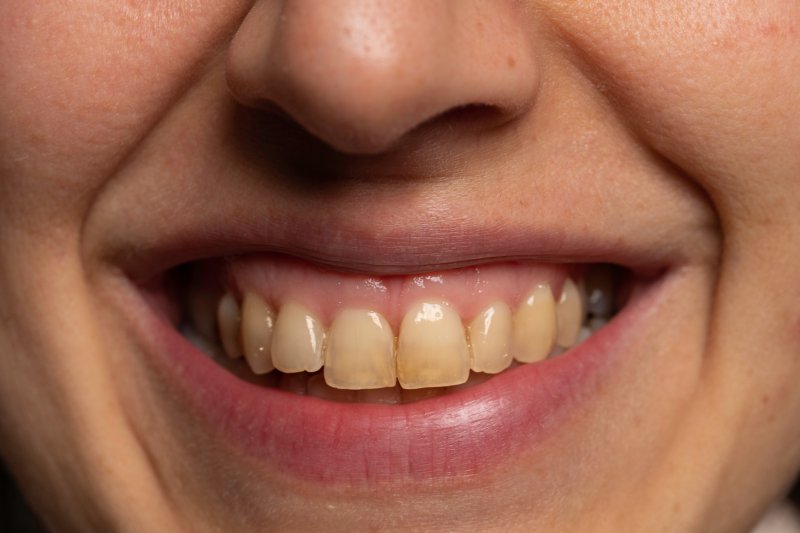 If you aren't happy with how your teeth look, you might want to consider cosmetic dentistry. It can transform even the most broken smiles into beautiful ones! That said, you may think there aren't treatments for your specific issue. If true, wouldn't a dental visit be pointless? Well, your Kerrville dentist is here to tell you otherwise. Namely, there's a procedure for almost any smile problem. As proof, here's a summary of three cosmetic dental flaws and the treatments that solve them.
Stained or Discolored Teeth
The Problem: Nearly everyone experiences tooth stains at some point. Stained or discolored teeth happen pretty often, whether from stain agents in food or aging and medication. That said, they do make smiles look less attractive. After all, anyone would prefer white teeth to yellow ones.
The Solution: Thankfully, many cosmetic treatments address tooth stains. For instance, professional teeth whitening bleaches enamel to eliminate even the most stubborn staining. On the other hand, veneers can cover up more severe discoloration. Thanks to their porcelain material, they'd hide your yellows and browns with a gorgeous, shiny white!
Cracked or Broken Teeth
The Problem: Accidents happen, and sometimes those accidents lead to cracked or broken teeth. Worse yet, a tooth that's chipped or cracked won't heal itself over time. Leaving it alone will ruin your smile and raise your risk of tooth decay and infection.
The Solution: Emergency dentists have services that can treat this sort of tooth damage. In particular, cosmetic bonding can correct the issue with its tooth-colored resin. Another choice is a dental crown, which covers your tooth's fracture while preserving its structure.
A Crooked Smile
The Problem: Teeth naturally shift as you age. Often, the issue is due to bone loss, tooth grinding, tongue thrusting, and so on. Even so, these shifts can add up and lead to a crooked smile if left unaddressed.
The Solution: Even crooked teeth are no match for cosmetic dentistry. You see, Invisalign could move your shifting teeth back with its clear aligning trays. These aligners are also more convenient, affordable, and comfortable than traditional metal braces. Alternatively, you could hide the misalignment with porcelain veneers, which could improve your smile's shape and color at the same time.
As you can see, the dental flaws mentioned above are easily treated with cosmetic dentistry. That being the case, go ahead and book a visit with your local dentist for a better smile.
About the Author
Dr. Caroll R. Butler is a dentist based in Kerrville, TX, having earned his DDS from the UT Health Center Dental School in San Antonio. For over twenty-eight years, he's met the dental needs of his local Texas community. In particular, he offers preventive, cosmetic, and restorative dentistry, including emergency procedures. Dr. Butler currently practices at his self-titled clinic and is reachable on his website or by phone at (830)-257-4900.
Comments Off on Common Dental Flaws & Their Treatments
No Comments
No comments yet.
RSS feed for comments on this post.
Sorry, the comment form is closed at this time.