March 17, 2023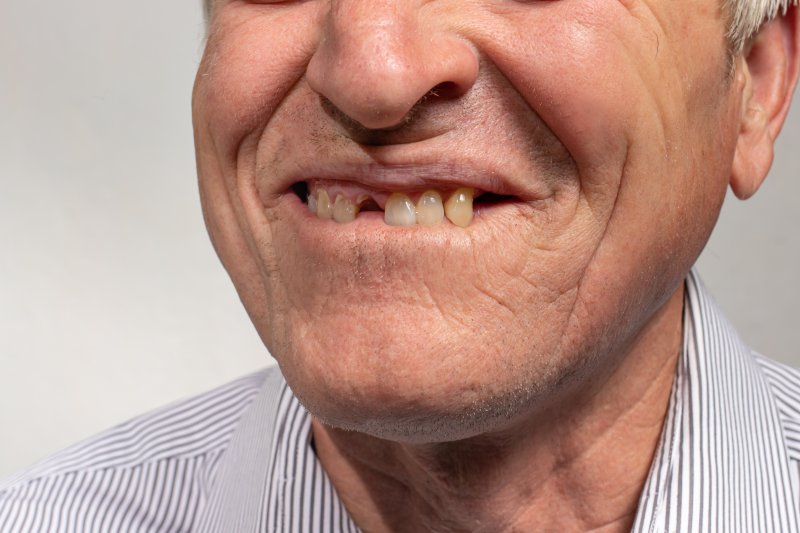 Are you missing one or more teeth? Are you worried that more than just the look of your smile will change over time? If you're wondering how tooth loss can affect your facial shape, you may be surprised to learn that your jawbone plays a large role. To find out how you can prevent and even reverse this type of problem, discover what your dentist can do to help you maintain a more youthful appearance.
What Happens When You Lose One or More Teeth?
The moment you lose one or more of your teeth, your jawbone becomes affected. Over time, the lack of stimulation delivered to the bone by the natural tooth root will cause this area of your facial structure to weaken.
As the bone shrinks and loses its density, other healthy teeth will also become loose, resulting in further tooth loss. As a result, you may notice that your facial shape begins to change. Because there are no teeth to keep your cheeks lifted and your chin from sagging, your facial features will begin to drop, causing you to appear older than you are.
How Can Dental Implants Improve This Type of Problem?
The good news is that it doesn't have to remain this way. You can recapture a more youthful appearance by choosing dental implants to restore your smile. These titanium posts are surgically placed into the jawbone to replicate the stimulation provided by regular tooth roots.
As they fuse with the bone tissues through osseointegration, they will deliver continuous stimulation each time you bite down or chew. This helps to keep faces lifted and features in place.
And although dental implants do require oral surgery to put into place, they offer greater benefits than other, more traditional tooth replacement solutions such as dentures and dental bridges. Dental implants not only replicate the complete root-to-crown structure, but they are known to last a lifetime as long as you commit to proper oral healthcare.
Am I a Candidate for Dental Implants?
The only way to know if you are a candidate for dental implants is to schedule an appointment with your dentist. Most individuals who have tooth loss can expect to enjoy life with implants at some point. While preliminary procedures might be required to boost jawbone density or treat gum disease, living with permanent prosthetics is a real possibility for most individuals suffering from tooth loss.
Don't let the potential for sagging facial features keep you from inquiring about dental implants. In choosing these tooth replacements, you'll enjoy greater peace of mind, aesthetics, and oral health for a lifetime.
About the Author
Dr. Carroll Butler has more than 25 years of experience helping patients achieve their smile goals. Offering dental implants to individuals suffering from tooth loss, we work to rebuild appearances to help boost confidence while also encouraging better oral health in the long run. If you or a loved one is missing one or more teeth, contact us at (830) 257-4900 and let us help you avoid the potential for a sagging, aging, and unpleasant appearance.
Comments Off on Can Dental Implants Help Prevent Changes in Facial Shape?
No Comments
No comments yet.
RSS feed for comments on this post.
Sorry, the comment form is closed at this time.