December 6, 2022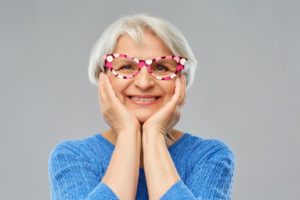 There are many beautiful benefits of growing older, like well-earned wisdom and deeply rooted relationships. As a matter of fact, now more than ever, senior citizens are living their best lives yet! But with age, certain things may need some fine-tuning, like your smile. There is no upper age limit for cosmetic dentistry, which means there are many treatments available that can help improve your pearly whites even in later life. Read on from your dentist in Kerrville about how you can improve your smile!
You're Never Too Old for a Smile Upgrade
No matter how well you have tended to your oral health, it is natural for your smile to have some wear and tear over time. Enamel, the protective, shiny outer part of your teeth, can erode naturally, leading to staining and yellowing. Or perhaps your pearly whites have chips and cracks from years of use. But just because you are a senior citizen doesn't mean that you must live with a faded smile! There are plenty of cosmetic treatments available to renew your teeth, such as:
Veneers
As one of the most popular forms of cosmetic dentistry, veneers are thin porcelain shells that fit over the front surface of teeth to hide imperfections such as chips and discoloration. They look natural and feel comfortable, making them an ideal choice for seniors who want to restore the look of their smile.
Metal-Free Restorations
Metal-free restorations, like porcelain crowns and tooth-colored fillings, are made from a strong and durable composite material that can be used to repair teeth that have been damaged by decay or fractures. These restorations blend in with your natural teeth, so you don't have to worry about having unsightly metal fillings in your mouth as you age.
Professional Teeth Whitening
Teeth whitening is one of the easiest ways to improve your smile and make you look years younger! Smile-friendly bleaching agents are used to remove stains and discoloration from the surface of the tooth enamel. The process is safe and effective and can even be accomplished in the comfort of your own home with customized trays.
Dentures and Dental Implants
A missing tooth can affect more than just your appearance; it can cause your jawbone to deteriorate, leading to even more tooth loss. To prevent this, dentures or dental implants are a wonderful option. Not only will you return to a complete, bright smile but your oral health will also improve!
No matter what stage you are in life, cosmetic dentistry can help improve your teeth and bring back confidence. With many treatments available to restore and renew your smile, don't let your age keep you from a new beginning!
About the Author
Dr. Carroll Butler has been restoring smiles in Kerrville for almost 30 years! He earned his Doctor of Dental Surgery degree from the University of Texas Health Science Center Dental School and is a proud member of the American Dental Association and Texas Dental Association. He can help you create a bright, long-lasting smile with a full range of cosmetic dental services, no matter your age! To schedule a consultation, contact him through his website or call (830) 257-4900.
Comments Off on You're Never Too Old for a New Smile!
No Comments
No comments yet.
RSS feed for comments on this post.
Sorry, the comment form is closed at this time.