August 15, 2022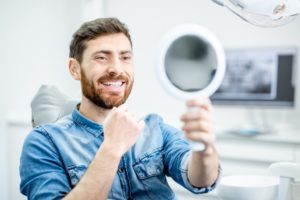 Have you found it hard to smile lately because of several damaged or missing teeth? You might think you'll never have a gorgeous grin ever again, but that's not true! With a custom treatment plan called a full-mouth rehabilitation, your dentist can restore your broken teeth, replace your missing ones, and give you a set of pearly whites that are as beautiful as they are healthy. Here are four of the most common full-mouth rehabilitation treatment options that may be perfect for your smile!
1. Tooth-Colored Fillings
In decades past, having a cavity in your front tooth meant forever marring your grin with a visible metal filling. Today, that's no longer the case. Modern fillings are instead made from composite resin, a putty-like and metal-free material that directly bonds with the tooth enamel. Not only does this preserve more of the tooth's structure, but it minimizes sensitivity. Plus, the resin is shaded to match your tooth, meaning your results should be seamless!
2. Same-Day Dental Crowns
Crowns are one of the most versatile dental treatments. These personalized, tooth-shaped restorations completely cover the surface of a tooth above the gumline. A dentist may place a crown for a variety of reasons, such as protecting an at-risk tooth from further damage and building up a weak tooth back to full function. If you choose a dentist who offers CEREC technology, they can even provide a dental crown in a single visit rather than two visits spaced several weeks apart.
3. Dentures
If you're missing multiple teeth or even an entire row of teeth, a denture can be a convenient and effective way to replace all of them at once. A partial denture (or partial) is designed to precisely fill the gaps between your remaining teeth, and a full denture sits on the gums to recreate the whole top or bottom arch. In both cases, today's dentures are considerably more reliable and comfortable than they were just a few decades ago.
4. Dental Implants
No matter how many teeth you've lost, dental implants can make you look and feel as if they'd never been missing in the first place. While dentures only replace the parts of the teeth above the gumline, dental implants also bring back the roots with tiny titanium rods that are embedded in the jawbone. This creates a firm foundation for any number of prosthetic teeth. Implant-supported teeth will always stay in place no matter what food you're eating, and they can potentially last for the rest of your life!
Every smile is different, and only your dentist will be able to tell you which treatments are best able to meet your needs. Reach out to them today to schedule a consultation for a full-mouth rehabilitation and begin your journey toward the healthy smile you deserve!
About the Author
Dr. Carroll R. Butler has been providing world-class dental care to the Kerrville, TX community since 1997. In addition to being a proud Fellow of the Academy of General Dentistry, he is a mentor at the prestigious Kois Center for continuing education for dentists. At his practice, Dr. Butler offers a wide range of full-mouth rehabilitation services, including CEREC same-day crowns and in-house dental implant placement. To find out which treatment is right for you, you can contact his office by calling 830-257-4900.
Comments Off on 4 Options for Restoring Your Smile with Full-Mouth Rehabilitation
No Comments
No comments yet.
RSS feed for comments on this post.
Sorry, the comment form is closed at this time.