September 2, 2022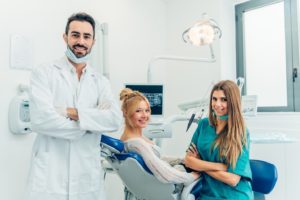 Your smile is one of the first things that people notice about you—so you should want your pearly whites to look healthy and resplendent! And one of the best ways to go about this is cosmetic dentistry—in fact, according to the American Academy of Cosmetic Dentistry, the demand for cosmetic dental work has actually doubled within the last five years! That said, if you're curious about receiving cosmetic dentistry to enhance your smile, you might have several initial questions. A cosmetic dental consultation is your next step for getting answers; here are five things that you should consider asking during your visit.
1. "What Can I Expect from My Results?"
You probably wouldn't be seeking out cosmetic treatment if you didn't have some sort of end-goal in mind for your smile. That said, you should make sure that what you're picturing can be made possible! Describe what you're hoping to achieve to your dentist—are you hoping to brighten and whiten your smile? Do you have damaged or misshapen teeth you'd like fixed? Your cosmetic dentist will work with you to determine which treatment option is best for you, based on the results you're looking for. You can discuss the expected outcome in terms of color, texture, shape, and so on. Ideally, your dentist might also be able to provide before/after photos of patients who've undergone similar treatments.
2. "What Is the Timeline for Treatment?"
Naturally, you'll want to have a good idea of how long the treatment will take to complete from start to finish. Some procedures, like teeth whitening, can be done in just one visit. Others, like orthodontics, sometimes require months or even years to fully complete. Having a rough timeline in mind can help you decide whether or not to go through with a particular procedure.
3. "How Much Will It Cost?"
Price is often a huge determining factor for many patients that contemplate dental work. It's also worth noting that many insurance plans don't cover cosmetic procedures. That said, your dentist will be completely transparent about the cost of particular cosmetic work, and they might also offer in-house financing options to assist you with affording treatment.
4. "Will the Treatment Hurt?"
Many patients are often concerned about potential pain when it comes to dental work—and understandably so! You should ask your dentist about how any pain or sensitivity will be managed, both during and after the procedure. They will be able to answer any questions about possible sedation and anesthesia options, too.
5. "How Long Does Cosmetic Dental Work Last?"
Of course, you'll also want to inquire about how long the results of your treatment will last before needing refreshment. Since every patient's smile is different, your dentist won't be able to provide you with a specific number of years—but they should be able to give you a rough estimate or range. Some treatments need to be touched up every couple of years; others can last for a surprisingly long time.
There's no set limit or any restrictions on what you can ask during your cosmetic dental consultation; but the more you know, the better you'll feel about whatever treatment you decide to pursue!
About the Author
Dr. Carroll R. Butler has proudly served patients and families in the Kerrville, TX community for over 25 years! Dr. Butler received his dental doctorate from the University of Texas Health Science Center Dental School in San Antonio and is a Fellow of the prestigious Academy of General Dentistry. His practice is pleased to offer many available services including several cosmetic options. If you have any questions for Dr. Butler or would like to arrange a visit, you can contact his practice online or by phone: (830) 257-4900.
Comments Off on 5 Questions You Should Ask During Your Cosmetic Dental Consultation
No Comments
No comments yet.
RSS feed for comments on this post.
Sorry, the comment form is closed at this time.