March 4, 2022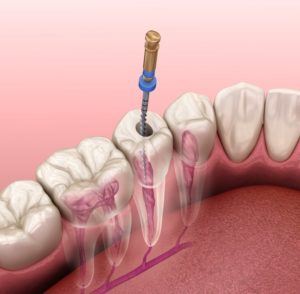 You go to the dentist for a regular checkup and are surprised to learn you need a root canal. But don't you have to be in pain to require one? Why would you need a root canal if you aren't hurting? Actually, your dentist is aware of other justifications. There are all sorts of issues that could mean you need root canal therapy. Continue reading to learn from your emergency dentist in Kerrville what those reasons are.
Gum Inflammation
If you or your dentist notice you have a raised bump on your gums, or they are painful and swollen, this can point to an abscessed tooth. If this is the case, your dentist will likely perform a root canal to combat the infection.
Discoloration
Discoloration can occur naturally over time, and it typically isn't anything to worry about. However, if one or more teeth end up darkly discolored, this could be a sign of nerve damage. In this situation, your dentist will determine whether a root canal will be able to save your affected tooth.
Deep Decay
When a cavity is neglected for too long, it will only get worse. Once it extends down to the nerve of the tooth, a root canal is the only option to save it. When left untreated, you may end up needing to have the tooth extracted entirely to prevent the spread of infection.
Persistent Pain
You don't have to be in pain to need a root canal, but it is usually the most common sign something isn't right, and you need treatment. If you cannot eat or drink without feeling discomfort, then you should be heading to the dentist to have the issue looked at. They will examine your tooth and decide if a root canal could alleviate the pain.
Chipped or Cracked Teeth
When a tooth becomes chipped or cracked from munching down on something hard or an injury, you should have this examined by a dentist. This type of issue can give bacteria a clear path to travel to the center of your tooth if it is deep enough. Your dentist may decide to perform a root canal to prevent infection and relieve your pain.
Sensitivity to Hot and Cold
New or worsening temperature sensitivity could indicate you have a problem. When you have a throbbing toothache because of hot or cold drinks, it might mean that your tooth is infected. A root canal is required if you are going to save the tooth.
No one looks forward to a root canal, but it is a very common procedure. With modern dental anesthetics, most patients don't feel a thing. If you have any of the symptoms listed above, it is a good idea to see your dentist in Kerrville so they can get to the root of the problem.
About the Author
Dr. Carroll Butler has been working hard for the smiles of Kerrville patients since 1997. He earned his dental doctorate from the University of Texas Health Science Center. Dr. Butler is a member of the American Dental Association and the Academy of General Dentistry. If you ever require an emergency dentist for a root canal or other pressing issue, he offers multiple levels of sedation dentistry, and it will be a priority to see you ASAP. Schedule an appointment on his website or by calling (830) 257-4900.
Comments Off on Do I Have to Be in Pain to Need a Root Canal?
No Comments
No comments yet.
RSS feed for comments on this post.
Sorry, the comment form is closed at this time.